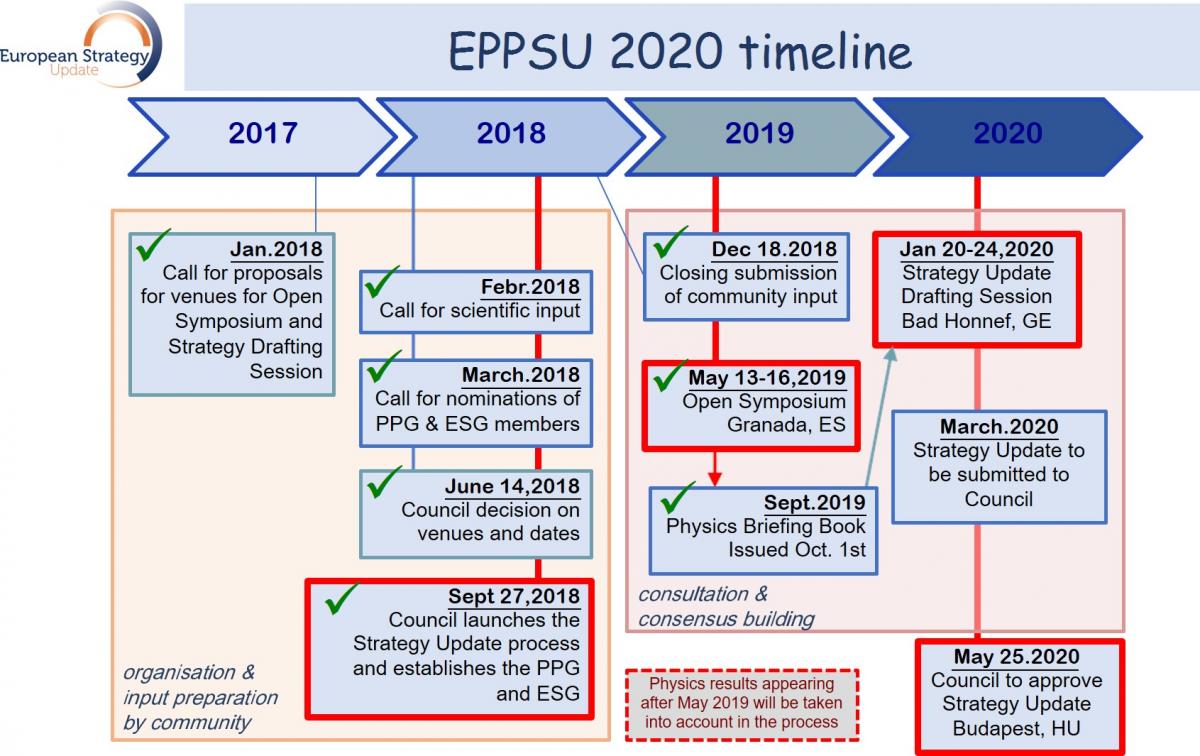 Timeline of the present European Strategy Update process with the green checkmarks symbolising the completed stages.
The European Particle Physics Strategy, as well as its subsequent updates, is established through a bottom-up process that starts with a broad consultation of all stakeholders in the European particle physics community. It culminates in a dedicated meeting of the European Strategy Group (ESG), which brings together representatives of the CERN's Member States and of the major European laboratories active in the field, as well as representatives of particle physics communities from outside Europe. The Strategy is drafted at this special "drafting" session of the ESG and it is then validated at a dedicated "European Strategy Session" of the CERN Council.
The broad consultation starts by first gathering inputs from groups organised around projects, experiments, national institutes and institutions, as well as from individuals. The call for such input is addressed to the world-wide particle physics community. The Physics Preparatory Group (PPG) then proceeds to organise an Open Symposium at which the whole particle physics community is invited to debate the future orientations of European particle physics based on the submitted proposals. The role of the Preparatory Group is to summarise the discussions and the conclusions in the form of executive summaries. These executive summaries and the collected inputs form the briefing book which is presented to the ESG for further deliberations.
The composition of the ESG and the PPG is established by the CERN Council.
The timeline for the European Strategy Update which is expected to be completed by May 2020 and for which the call was issued by the CERN Council in September 2017 is summarised in the panel above.